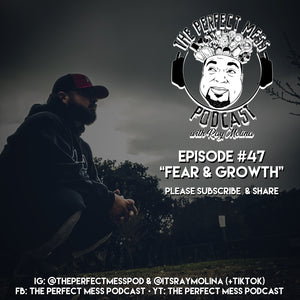 Ep. #47 - Fear & Growth
"One can choose to go back toward safety or forward toward growth. Growth must be chosen again and again; fear must be overcome again and again." - Abraham Maslow

I use to run toward fear because it was easy for me. Then I realized fear was doing nothing for me and it was growth that I lacked. I wasn't growing in life and in the things that mattered that could ultimately change my outlook on life. They say men mature at a slower pace than women, I don't know if that is true but I definitely needed to learn how to change or I was gonna fail......I hope you enjoy this episode and as always, a subscribe, follow, share, comment or review is always appreciated!
Web: www.raymolina.com

IG: @itsraymolina @theperfectmesspod
TKTK: @itsraymolina
YT: The Perfect Mess Podcast
Donate via Cashapp: (Click Here)
---