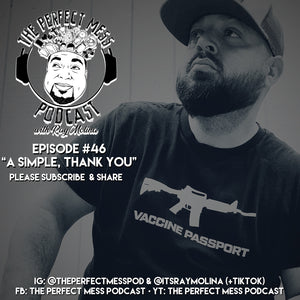 Ep. #46 - A Simple, Thank You
"Let us rise up and be thankful, for if we didn't learn a lot today, at least we learned a little, and if we didn't learn a little, at least we didn't get sick, and if we got sick, at least we didn't die; so, let us all be thankful." - Buddha

They're cracking the whip and cornering all of us...at least if feels like it huh? Seems we can't even make our own decisions these days, the gov't seems to think they need to help us do that as well. Like we haven't already been through enough. Boy has shit hit the fan out here in California...I mean really. So, as always.....let's talk about it and I'll go first......I hope you enjoy this episode and as always, a subscribe, follow, share, comment or review is always appreciated!
Web: www.raymolina.com

IG: @itsraymolina @theperfectmesspod
TKTK: @itsraymolina
YT: The Perfect Mess Podcast
Donate via Cashapp: (Click Here)
---