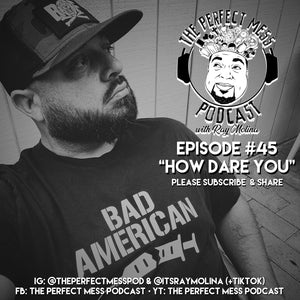 Ep. #45 - How Dare You
"Security is mostly a superstition. It does not exist in nature, nor do the children of men as a whole experience it. Avoiding danger is no safer in the long run than outright exposure. Life is either a daring adventure, or nothing." - Helen Keller

How dare you be unapologetically you. The nerve of you to have an opinion, a voice or thought that goes against mine. Yea...I know, it's happening all over the place these days. Let's talk about it and I'll go first......I hope you enjoy this episode and as always, a subscribe, follow, share, comment or review is always appreciated!
Web: www.raymolina.com

IG: @itsraymolina @theperfectmesspod
TKTK: @itsraymolina
YT: The Perfect Mess Podcast
Donate via Cashapp: (Click Here)
---