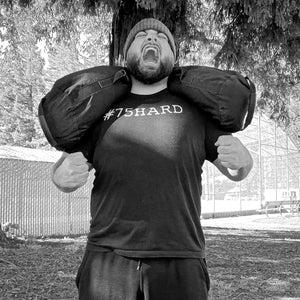 Toxic Masculinity
TOXIC MASCULINITY. (100lbs. 1.5miles)
-
That's what it's called now when you train to be a better/stronger man than you've ever been.
-
When you teach your children fitness, strength, toughness and anything physically aggressive.
-
They'll have you believe that men who live like this are bad for today's society.
-
That men like this should be feared by women or anyone who is living a completely different lifestyle for that matter.
-
That is not the case and couldn't be further from the truth.
-
Men who live like this cheer for those starting their journey. They share their stories of when they were broken and a shell of themselves.
- 
They aim to be protectors of women and yes, our children.
-
The symbol of what a strong man should be has been distorted today.
-
It's been plagued with excuses and images as to why it's ok to be soft and mediocre.
-
True, all men are not the same and there is room for all versions of men you encounter.
-
But when men are called TOXIC for pushing ourselves to extreme measures so we can be at our very best, that my friends is unacceptable.
-
@selfmagazine would have you believe fitness is a privilege, costs money, time and is based on judgement. 
-
It's a LIE. Fitness takes, outside…PERIOD. Last time I checked…that was FREE.
-
And if any man I described ever caught someone shaming someone…they'd speak up and it would get physical if need be.
-
Now, that's the TRUTH.💯🇺🇸💪🏼♠️❤️🦁☠️✝️ 
---