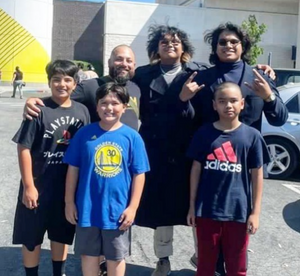 Story Time...
Story time…
:
We were leaving the mall the other day after seeing a movie and I hear somebody running towards us in the parking lot.
:
I turn around, and the guy asked me…"Are you Ray Molina?" And I said, "yes…"He then says, "I listen to your 90 Seconds of Inspiration all the time!"
:
He has this big smile on his face… And ask if we can take a picture. And of course I said, "yes". He also asked if the boys could jump in…most people know my boys through my podcast as well.
:
I then realized the guy on the right you see in the photo is the kid that I bought my weights off during the lock down. He was making them out of cement and a mold.
:
His mom couldn't work and he was helping her by earning money making weights for people and selling them. Mind you, he was 16 at the time and I thought I was going to meet a grown man. Who I met was a kid who had hustle and a great heart I could tell.
:
His name is Frank, and I believe Neil who is right next to him is his cousin I could be wrong maybe his younger brother. Both of these kids I will never forget because they had so much respect when I met them and I could tell they weren't going to let the lockdowns hold them back.
:
As you can see they're much bigger now, I believe Frank said he's a senior now and they're both really into fitness and bodybuilding.
:
Listen close, I'm just a father who went through a lot of shit in his life… From when I was a kid to my adulthood.
:
My gift is that my life could've been destroyed and ended numerous times and I found a way to persevere mainly through God but also through prayer and putting some action behind it.
:
Part of that action has been to share it with the world publicly through my podcast. And doing that, I've hoped to give anybody who's going through stuff or who needs a boost in life, or confidence just enough hope that they can do it because I have and still am.
:
This is one of many stories and I'm just thankful… My kids thought it was cool and so did their buddy who was with us.
:
Neil & Frank thanks for saying hello and keep pushing fwd everyday…really good to see you guys, God Bless.
:
#raymolina
#theperfectmesspod
#podcast
#molinaboys
---