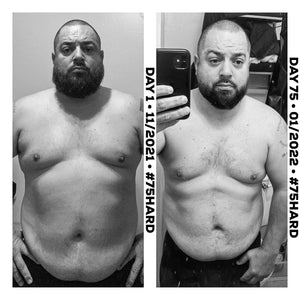 Here's to transparency... #75hard
Here's to transparency…🍻
-
What I feared would happened, "happened".
-
I got comfortable. 2021 I got my new place and finally got some peace in my life. (My fear: I'd lose my hunger)
-
I did. I thought I could now put it in cruise control and go hard (here and there) but take it easy.
-
The photo on the left is what "take it easy" looks like. (I am struggling showing this photo man it upsets me)
-
I can run the excuses: I had a concussion, I got C19, I lost someone and got depressed, I this, I that.
-
Bullsh#t - I LET MYSELF DOWN. (Truth)
-
I use to love having excuses because it always gave me an out. And trust me, I know the old me…those were all legit OUTS I could've used.
-
I don't play those games anymore.
-
Am I proud of the transformation, YES. You can see I went hard and it shows.
-
But it also shows how bad it was and I didn't even realize it. 
-
If you swipe left (look at the dates) that was the first time doing #75hard and I killed it. 
-
I included those photos to show where I needed to keep it and I didn't. I showed it to prove that when you get comfortable and think the work is done, it most definitely is NOT done.
-
I had to reel myself back in. Am I proud of the progress I made to do that, YES. That don't mean I'm not disappointed however.
-
Is it possible to complete 75 HARD successfully, make a dramatic change and be proud and pissed off at the same time, I think so.
-
I'm gonna take this as a learning point. Gather myself for a few days…then jump into Phase 2 #LiveHard
-
I deserve the torture of another 30 days…so here we go. 
-
If your journey has been tough, embarrass yourself like this…it works to hold you accountable. It's hard, but it's par for the course to get your lazy ass in gear.
---